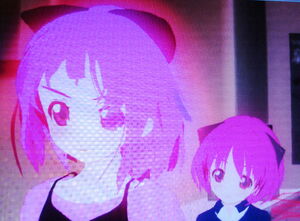 Mariko091
is an Elfen Lied fan from Germany who likes to use art to present our horned girls and their friends in ways you may have never seen before, creative ways that show a new side to the characters.
From YouTube : In these, we see Lucy and Nana made from a mod on Love-Death 555, making the pair look more Moe and kawaii than usual

http://www.youtube.com/watch?v=CTGmwMJ27gw
http://www.youtube.com/watch?v=NpAdZdTzf0c
http://www.youtube.com/watch?v=8OKZ0OfobjA
http://www.youtube.com/watch?v=nW5ApW4QRJc
Some words from the creator of these works :
(Elfen Lied Mod for Love death 555)
I modded the Japanese game Love death 555 (らぶデス555) so that you are able to play as Lucy or Nana and you can also interact with Lucy or Nana (You can play as Lucy and then interact with Nana or vice verse and you also can play as one of the other characters of the game and interact with Lucy and/or Nana). I used the program Texmod to make this, i changed the textures of four clothing items, two hairstyles and all eye expressions of one of the characters.
Here are two pictures of my Mod:


If you have any questions about the Mod (how to get it and/or how to install it) post them into this ELF-Thread:
http://elfenliedf...post_14800
or post a comment on one of the YouTube videos above.
You can find general information about the game here:
http://scratchpad..._Death_555 and
http://www.hongfi...irst-post)
)
Ad blocker interference detected!
Wikia is a free-to-use site that makes money from advertising. We have a modified experience for viewers using ad blockers

Wikia is not accessible if you've made further modifications. Remove the custom ad blocker rule(s) and the page will load as expected.