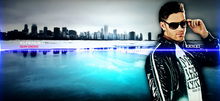 Elfenlied is a song by German rap artist SunDiego. The song's lyrics reference Lucy's childhood, including her first meeting with Kouta, and focus on her feelings during this time period. As of yet, it does not seem that the song is on any studio album.
Translation
German
English
Sie war geboren in dieser Welt, doch war nicht dazu bestimmt


Sie war kein normaler Mensch. Sie war kein normales Kind
Ihre Eltern wollten sie nicht haben (wollten sie nicht haben)
Und sie gaben sie einfach weg, ohne viel zu sagen
Sie konnte noch nicht mal sprechen
Und ihre Eltern haben schon ihr Gesicht vergessen
Sie musste im Kinderheim aufwachsen...Und nicht einmal dort wurd' sie gemocht
Also konnt' sie nichts draus machen
Und sie kam nicht zurecht
Und immer als Essen ausgeteilt wurde kam sie zuletzt
Sie hat keine Freunde gehabt, keine Freude gehabt, keine Liebe gekannt, nur geheult jede Nacht
Sie hat sich eingeredet:"Bald wird mein Traum wahr
Und die anderen sind zu mir nicht mehr so grausam."
Sie musste jeden Tag kämpfen, dass ihr Herz nicht erfriert
Und sie ging oft allein, in den Bergen spazier'n

I believe (4x)

Und sie brauchte die Natur
Brauchte sie zum überleben
Leider konnte dieses Mädchen mit niemanden drüber reden
Und es war ihr klar...sie ist ganz allein auf dieser Welt
Und keiner ist für sie da
Aber dies mal sollte die Wende komm
Und ihr vorbestimmtes Schicksal hat jetzt begonn'
Sie haben sich zufällig gesehen
Die Spieluhr hat gespielt
Sie waren fast wie erstart. Sie wussten nicht was geschieht
Diese wundervolle Melodie. Diese wundervolle Melodie spielte das Elfenlied
Dieser Junge kam und hat sich mit ihr angefreundet
Er war nett zu ihr, nicht so wie diese ganzen anderen Leute
Er hat in ihr etwas besond'res geseh'n
Denn das scheiß Leben war nur ein kommen und geh'n
Und keiner hätte es von den Mädchen gedacht
Du sie hat zum ersten mal in ihren Leben gelacht

I believe (4x)

Er war wie ein heller Funke in ihr dunklen Leben
Sie kannte keine Liebe, doch er hat ihr ein Grund gegeben
Und die Zeit steht still
Und dem Mädchen wird bewusst, was sie eigentlich will
Er hat versprochen, es kommt morgen wieder
Sie soll dort auf ihn warten
Der Junge war für sie ein Grund, wieder aufzuatmen
Sie kam dort hin. Er war nicht da, doch
Sie hat sich eingeredet das er noch mal kommt
Aber Tage vergeh'n, sie fing an zu versteh'n
Sie weinte in ihre Hände und wusste sie kann wieder geh'n
10 Jahre her und sie weiß sie muss versuchen zu kämpfen, doch das ist 10 mal so schwer
Als es war. Sie ging wieder in die Berge
Sie fühlte sich belogen und sie fühlte solche Schmerzen
Und es ging nicht anders
Sie schaute in den Himmel und wusste ihre Zeit ist gekommen

I believe (4x)

She was born in this world, but it was not intended


She was not a normal person. She was not a normal child
Her parents did not want her (they did not want to have her)
And they just gave her away, without much to say
She could not even speak
And her parents had forgotten her face
She had to grow up in children's home ... And not even there she was liked
So she couldn't get out of it
And they did not get along
And she was always given food last
She had no friends, had no joy, knew no love, only cried every night
She told herself: "Soon my dreams will come true
And the others won't be so cruel to me."
She had to fight every day, so that her heart wouldn't freeze
And she often went alone, walking in the mountains

I believe (4x)

And she needed nature
She needed to survive
Unfortunately, this girl couldn't talk to anyone about it
And it was clear to her ... she was all alone in this world
And no one was there for her
But this time, the turn should come
And her predetermined fate begins now
She saw it randomly
The music box played
She was almost like a maiden. She did not know what was happening
This wonderful melody. This wonderful melody played the Elf's Song
This boy came and befriended her
He was nice to her, not like all those other people
He saw in her something special
Because that shit life had only come and go
And no one would have thought of the girl
She laughed for the first time in her life

I believe (4x)

He was like a bright spark in her dark life
She knew no love, but he gave her a reason
And time stands still
And the girl is aware of what she really wants
He has promised, he'll come back tomorrow
She should wait for him there
The boy was, for her, a reason to breathe again
She came down there. He was not there, but
She has been told that he'll come again
But days go by, she began to understand
She wept into her hands and knew she could walk again
10 years later, and she knows she has to try to fight, but this is 10 times heavier
than it was. She went back to the mountains
She felt lied to and she felt such pain
And there was no other
She looked at the sky and knew her time had come

I believe (4x)
Ad blocker interference detected!
Wikia is a free-to-use site that makes money from advertising. We have a modified experience for viewers using ad blockers

Wikia is not accessible if you've made further modifications. Remove the custom ad blocker rule(s) and the page will load as expected.