Home
Talk

0
291pages on
this wiki
Celebrating Ten Years With Elfen Lied!
Please Join Up! Register here and help make this site the go-to for thorough, accurate information about this dark but wonderful series!

[ view ] [ suggest ] Featured Article
Kurama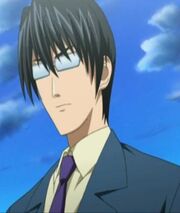 Doctor Kurama is the General Director (sometimes referred to as Room Monitor) working at the Diclonius Research Institute under Chief Kakuzawa, having been recruited by the man's elder son. He is in his mid-30's when the series begins, marked off by the escape of Lucy amid the brutal killings of many facility personnel, including Kurama's secretary. He is a father figure, however flawed, to both Nana and his birth daughter, Mariko, and his actions, whatever his mental state, often have their protection in mind. Eventually, the mad plans of his employers force him to a harsh realization and some even harsher choices, to the point his sanity is threatened. Whatever his alliances, he unrelentingly views Lucy as the number one threat to Human-kind and the world itself.
As a young man with his doctorate, he was married to Hiromi Kurama, whose frail constitution did not allow her to conceive children. He was recruited by his colleague, Kakuzawa, with the promise of handling the next stage of human evolution, and joined Japan's National Research Institute on Human Evolution . While recognizing the need Kakuzawa stated to stop the spread of the syndrome that caused certain girls to be born with horns, telekinetic powers and a (seeming) eventual desire to kill their families, he very often raised objections to the manner in which the young girls were treated, particularly in the case of Silpelit Number 3.
Visit here to read the rest...