Home
Talk

0
334pages on
this wiki
The Series That's Fashionable To Bash & Impossible To Forget!
Elfen Lied R1 Blu-Ray available--now with OVA included!
---
Please Join Up! Register here and help make this site the go-to for thorough, accurate information about this dark but wonderful series!

---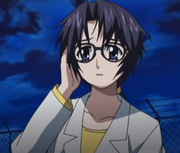 "
To think that, instead of being a savior, I helped to bring the end of mankind.
"

–Arakawa, repenting of her self-centered point of view
Doctor Arakawa is a research scientist and was the assistant of Professor Kakuzawa in his Diclonius experiments. As a child, she wished to be the next Marie Curie and spent all her time studying to the detriment of her social life. Graduating and earning her PhD, she later took a position at Kamakura University, where she resented Professor Kakuzawa for working her relentlessly and often treating her like a gofer. This character went from nearly being mere comic relief to facing one of the greatest moral conflicts of the series.
Biography
Returning to the university after running some errands, she discovered Kouta, who had previously left the amnesiac Nyu in Kakuzawa's custody after he claimed to be her relative, but thought better of it and returned to retrieve her. In one of his lower-level labs, they found the professor's severed head and dead body. The Professor seemed had made the mistake of crossing Nyu's alternate persona, Lucy. She was badly confused by seeing the horns on his head, since supposedly their research had been to concoct a vaccine against a vaguely-defined plague that gave people horns. Swearing Kouta to secrecy...
Visit here to read the rest...