List of Elfen Lied Japanese Seiyu
Comments

0
291pages on
this wiki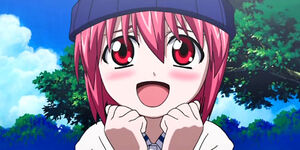 A
Seiyu
is a Japanese voice acting professional, often known for, but hardly limited to, anime. Unlike their
American counterparts
' traditional treatment, many seiyu are very nearly revered and idolized.
See a full/voice cast listing with full international credits on this page :
http://www.animenewsnetwork.com/encyclopedia/anime.php?id=4148
Sanae Kobayashi Edit
Born 01/26/1980, in Shizuoka Prefecture, Japan.
Other notable roles :
Naruto - Sasame
Baccano! - Ennis
Sousei No Aquarion - Hong Lihua
Yu-Gi-Oh! Duel Monsters GX - Asuka Tenjouin
Chihiro Suzuki Edit
Born 2/17/1977, in Yamagata Prefecture, Japan
Other notable roles :
Amaednaideyo!! - Ikkou Satonaka
An actress with a vast array of roles outside of anime voices
Ah! My Goddess - Sayoko Mishima
Ai Yori Aoshi ~ Enishi - Chizuru Aizawa
Blade Of The Immortal - Makie Otono-Tachibana
Girls Bravo - Yukinari Sasaki
Inuyasha - Rin
Emiko Hagiwara Edit
11eyes - Shiori Momono
Miserables - Shoujo Cosette - Fantine
Da Capo Second Season - Alice Tsukishiro
Yuki Matsuoka Edit
Azumanga Daioh - Ayumu "Osaka" Kasuga
Bleach - Young Ichigo
The Melancholy of Haruhi Suzumiya - Tsuruya-san
Negima - Evangeline A.K. McDowell
Maria YamamotoEdit
Kisaragi, Saito, Kanae, Aiko Takada
Amazing Nurse Nanako - Nanako Shichigusa
Guardian Hearts Power Up! - Aya Kureha
Papillon Rose - Tsubomi / Papillon Rose
Jouji NakataEdit
Appleseed XIII - Mags
Code Geass, Lelouch Of The Rebellion - Diethard Ried
Fate/stay night - Kirei Kotomine
Kaizoku Sentai Gokaiger. - Action Commander Zaien
Jouji Nakata has also played/voiced many Super Sentai villains.
Tomoko KawakamiEdit

Kenichi, The Mightiest Disciple - Miu Furinji
Best Student Council - Cyndi Manabe
Bleach - Soi Fong
Sadly, Ms. Kawakami died from ovarian cancer in June of 2011.