List of Elfen Lied English Voice Actors
Comments

4
291pages on
this wiki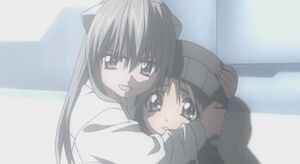 The Voice Acting profession is a vastly underrated and often under-appreciated one, here in the United States. Recently, that has begun to change, but it still doesn't have the same status as in Japan.
Full and international voice cast listing with all appearances, major and minor, at: http://www.animenewsnetwork.com/encyclopedia/anime.php?id=4148
Kira Vincent-DavisEdit
Gravion - Mizuki Tachibana
Air Gear - Emily
Godannar - Lou Roux
Steel Angel Kurumi - Nakahito Kagura
Adam ConlonEdit
Princess Tutu - Autor
Gilgamesh - Octo
Voices Of A Distant Star - Noboru Terao
Nancy Novotny Edit
Air Gear - Mari Tomita
Azumanga Daioh - Koyomi Mizuhara
Kaleido Star - Mia Guillem
Full Metal Panic: Fumoffu - Ren Mikihara
Cynthia Martinez Edit
Air - Kannabi-no-Mikoto
Comic Party Revolution - Ikumi Tachikawa; Yuuka Tsukishiro
Kaleido Star - Sora Naegino
Slayers - Lina Inverse
Sasha PaysingerEdit
Angelic Layer - Hatoko Kobayashi
Best Student Council - Seina Katsura
Mezzo - Asami Igarashi
Sister Princess - Marie
Jason DouglasEdit
Black Butler II - Claude Faustus
Azumunga Daioh - Chiyo-Dad
Chrono Crusade - Father Remington
Detective Loki - Frey
Dragonball Z Kai - King Cold
The Quality Of The Dub is...